SMALL BUSINESS SATURDAY EXCLUSIVE
Testimonials
I'm so picky when it comes to jewelry - LMK with their incredible assortment of classic, elevated and timeless pieces changed that and I find I don't ever want to take them off!

Rance China @ranchrex
I love my choker and wear it proudly! So proud of you & your cause, keep it up!

Carissa Moore @rissmoore10
I swear by your biggest baller necklace. My readers see that I wear your necklace every single day, they know the quality is really amazing and lasts!

Ellenor Kim @ellenorkim
I was shocked to find such a quality brand. She said, "Sweat proof, ocean friendly, and hypoallergenic," and she meant it!

Kylee Chun @kyleekinns
You guys are my absolute favorite! Every piece of Love Me Knots Jewelry sparks joy and I've made a part of my daily style.

Crystal Panci @panci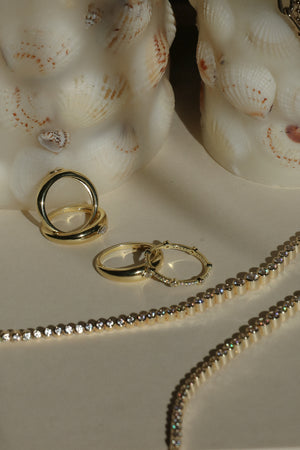 JEWELRY WITH INTENTION
THE POWER IS IN YOUR JEWELRY
Our jewelry not only makes you look good but makes feel good about your purchase. Does your other jewelry hold such power? As of 2021 Love me knots has donated over $25,000 to animal charities and shelters around the world.
LEARN MORE ABOUT OUR MISSION
About the Founders:
"We're just 3 girls who want to save the world in style!"

Inspired by a friendship that grew out of a common love for gold jewelry & animals, ♡ Me Knots was created with the intent to be more than just another typical jewelry retailer.
The company's vision is to design pieces that not only evokes beauty on the outside but that you can feel good about on the inside. 
For every item purchased, a portion of the profits is given towards providing food, shelter, and care for an animal in need around the world. As of 2021 LMK has donated approximately $25,000 to charities and we plan on continuing to grow that amount (woo hoo!)
Created and designed in Honolulu, the simple yet thoughtful pieces reflect the effortless beauty of the islands and the bad ass attitudes of the women who inhabit it.
Aligned with our philosophy - each step of our process is done with intention - from sourcing our materials to our packaging. We do not take short cuts.
So excited to have you be a part of our journey!
Watch our video here